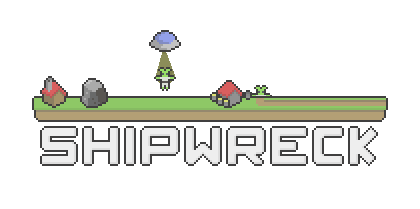 Shipwreck
Quality of life Updates for 0.29
---
A few bug fixes that were not addressed at the release of 0.29.
* When placing down buildings than clicking the done button would sometimes place a building at the button done location, not stopping the build process. I will be changing how these scenes work in the future, instead showing buttons, it will show keys to press but also revert back to build scene if that player wants to also build something else too.
* When placing down buildings, that was from events or other functions it wouldn't register the tile data incorrectly. That would cause future tiles to be incorrectly selected.
* Using zone chunks, will improve performance drastically. Tiles will still update correctly too.
* Small water tower wasn't able to be deconstructed or repaired.
* Will be adjusting the island spawn rate / time. It will fastly spawn tiles when you are getting low of grass tiles but when you have enough it will slow down the island spawning until the grass tiles gets low. It will only increase when you want to expand more.
* Some item inventory was show decimal places when they were not suppose to.
* On creating a new auction, the "item stored" will automatically update to always show the exact amount of items in storage.
* and... Misc bug fixes.
Files
Version 0.29
May 21, 2018
Version 0.29
May 21, 2018
Version 0.29
May 21, 2018
Version 0.29
May 21, 2018
Version 0.29
May 21, 2018
Version 0.29
May 21, 2018