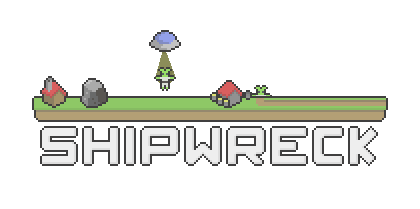 Shipwreck
Update 0.25 - Server Support!
---
Features:
* Can dig up resources (trees, mushrooms, etc) to expand the colony faster but won't gain those resources.
* Adding network play as modules:
* Adding research as a module:
Network play module #1:
* Currently: Able to chat to other players and see their colony happiness
* Able to whisper to other players.

Note: Changing your chat name, your colony name, will be added in next update.
Research module:
* Instead of showing all buildings, research is required to learn new building type.

Note: Future updates some research can only be gained by exploration, studying other
plants, network play for research, etc.

If you want to live on inhabitable plants, must gain some research.
Updates, Fixes, improvements:
* deconstruct texture would disappear when the building was destroyed.
* when at night or going to day, when game paused, the background water didn't match the dusk/day.
* when your villager died because of starvation, game over didn't appear.
* raid ships won't drain your resources to zero.
* slave ships won't drain your villagers to zero.
* slave ship event would go into a infinite loop when the colony doesn't have any housed villagers.
* Fixed double shot in combat.
* Fixed misc event bugs.
* events will pause when the game is paused
* disabled network play for html5 version.
* updated / added tooltips to custom game window
If you purchased the game OR played the demo, tell us what you think!
Files
shipwreck.zip
Play in browser
Apr 25, 2018
Version 0.25
Apr 25, 2018
Version 0.25
Apr 25, 2018
Version 0.25
Apr 25, 2018